Pray for the Patch-US Border Protection and Ice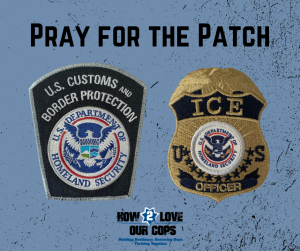 U.S. Customs & Border Protection
U.S. Immigration & Customs Enforcement
Our Team collects department and agency patches from around the world for our Pray for the Patch Program. Some come to us brand new while others come to us from uniforms that have been worn for years, the kind of patches that have history. Patches are proudly posted on our blog, Facebook and Instagram pages, and the public is invited to join us to pray as they feel led for the agency and their community. With honor for each patch that has been gifted to us, they are placed on special bulletin boards and are displayed at our events. We are grateful to be entrusted with them.
Thank you for joining us to pray for agencies with the U.S. Department of Homeland Security:
U.S. Customs & Border Protection 
U.S. Immigration & Customs Enforcement 
I will praise you, L
ORD
, among the nations;

I will sing of you among the peoples.

For great is your love,

higher than the heavens;

Your faithfulness reaches to the skies.

Be exalted, O God, above the heavens;

Let your glory be over all the earth.

Save us and help us with your right hand,

That those you love may be delivered.
Give us aid against the enemy.

With God we will gain the victory.
Psalm 108:3-6,12a,13a
We'd love to pray for your agency. Send us a patch!
How 2 Love Our Cops, PO Box 811, Penryn, CA 95663.
For more information about these departments please visit their websites
US Customs and Border Protection HERE
US Immigration & Customs Enforcement HERE
If you would like to submit a Pray for the Patch request, please contact us at prayers@how2loveourcops.org or Click here:  Contact form.