Pray for the Patch How 2 Love Our Cops Team and California Highway Patrol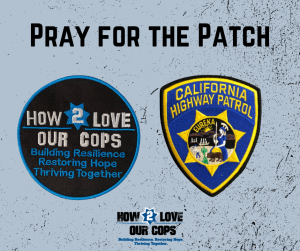 How 2 Love Our Cops Team
California Highway Patrol
Our Team collects department and agency patches from around the world for our Pray for the Patch Program. Some come to us brand new while others come to us from uniforms that have been worn for years, the kind of patches that have history. Patches are proudly posted on our blog, Facebook and Instagram pages, and the public is invited to join us to pray as they feel led for the agency and their community. With honor for each patch that has been gifted to us, they are placed on special bulletin boards and are displayed at our events. We are grateful to be entrusted with them.
Join us to pray as you feel led for the brave men and women of the California Highway Patrol as well as the How 2 Love Our Cops organization.
The heart of How 2 Love Our Cops began with the California Highway Patrol, where our President Victoria Newman experienced life as a cop wife. In the midst of tragedy God gave her a heart for the unseen, our nation's law enforcement officers and their families. Victoria and Brent Newman, we thank you for your dedication and love as you come alongside this community with such great care.
Friday, September 29th, is our Boots 4 Blue Benefit Concert & Dinner to support our mission. Our mission is to educate, encourage, and equip law enforcement families to thrive relationally, emotionally, and spiritually. We are grateful for every partnership to continue our mission and vision.
For the
LORD

is good and his love
endures forever;
His faithfulness continues through
all generations.
Psalm 100:5

We'd love to pray for your agency. Send us a patch!
How 2 Love Our Cops, PO Box 811, Penryn, CA 95663.

For more information about these departments please visit their websites

How 2 Love Our Cops History HERE
California Highway Patrol HERE
If you would like to submit a Pray for the Patch request, please contact us at prayers@how2loveourcops.org or Click here:  Contact form.