Pray for the Patch- Brevard County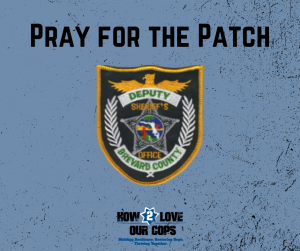 Each week the How 2 Love Our Cops prayer team spends some time reviewing the patches that have been sent to us from all over the country. Prayerfully, we choose a patch and share it with you, our incredible followers to come along side us and lift up the men and women who represent the department selected.
Join us this week as we pray for the Brevard County Sheriff's Office.
Join us to pray:
Dear Lord, we come before you to lift up every member of this agency. We pray your love and presence would go before them in all they do. For wisdom and knowledge to guide the leadership in regards to care and training. We pray that you would provide resources for the well being of each agency member and their families. Cover them with your peace and give them strength, Lord. May your faithfulness be their shield and rampart.
The LORD is the everlasting God, the Creator of the ends of the earth. He will not grow tired or weary, and his understanding no one can fathom. He gives strength to the weary and increases the power of the weak.
Even youths grow tired and weary, and young men stumble and fall; but those who hope in the LORD will renew their strength. They will soar on wings like eagles; they will run and not grow weary, they will walk and not be faint. Isaiah 40:28-31
In Jesus Name we pray, Amen.
For more information about this department please visit their website.
If you would like to submit a Pray for the Patch request, please contact us at prayers@how2loveourcops.org or via our Contact form.