Pray for the Patch- Illinois State Police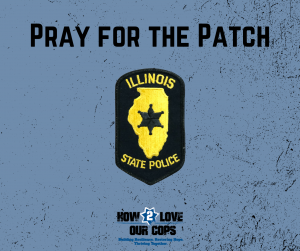 Each week the How 2 Love Our Cops prayer team spends some time reviewing the patches that have been sent to us from all over the country. Prayerfully, we choose a patch and share it with you, our incredible followers to come along side us and lift up the men and women who represent the department selected.
Join us this week as we pray for Illinois State Police
Join us to pray:
Dear Lord,
We come before you to lift up this agency and praise the work they are doing to pour into the youth. We pray you would bless all who are participating as they build trust and relationships with the next generation. We pray for the success of all who were recently promoted into new ranks of leadership. May their commitment to their oath shine amongst their peers as well as in their communities. We pray for excellent applicants as this agency recruits cadets for their Lateral Entry Training Program. We ask for your love and peace to surround each police family.
Lord, we thank you for being near to the brokenhearted. We pray for your strength, comfort and healing to be present across this state. May your light shine in the dark places.
Even in darkness, light dawns for the upright, for those who are gracious and compassionate and righteous. Good will come to those who are generous and lend freely, Who conduct their affairs with justice.
Psalm 112:4-5
In Jesus' Name we pray, Amen!
For more information about this department please visit their website.
If you would like to submit a Pray for the Patch request, please contact us at prayers@how2loveourcops.org or via our Contact form.