Pray for the Patch – Coeur D'Alene Police Department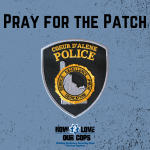 Each week the How 2 Love Our Cops prayer team spends some time reviewing the patches that have been sent to us from all over the country. Prayerfully, we choose a patch and share it with you, our incredible followers to come along side us and lift up the men and women who represent the department selected.
This week we highlight the Coeur D'Alene Police Department.
Join us to pray:
Dear LORD, We come before you to intercede for the Coeur d'Alene Police Department and community. We thank you for their diligence to guard their community with assistance from allied agencies. We are grateful for citizens who speak up and report suspicious activity. Citizens are the eyes and ears of their community and are vital to providing pertinent information so that officers may respond appropriately. We pray for the protection of each member of the police department and their families in these days ahead. We pray you will guard their hearts and minds and give them discernment as they go about their work days and home life. We pray that trust and wisdom would triumph over fear. We pray that these police families would have the support and love of family and friends. We pray that you will shield this community from darkness and evil, and may this community continue to care for one another and be alert to the schemes of the enemy.
"I love You [fervently and devotedly], O Lord my strength."
The LORD is my rock, my fortress, and the One who rescues me; My God, my rock and strength in whom I trust and take refuge; My shield, and the horn of my salvation, my high tower-my stronghold. I call upon the LORD, who is worthy to be praised; And I am saved from my enemies.
Psalm 18:1-3 AMP
He is a shield to all who take refuge in Him. For who is God, but the LORD? Or who is a rock, except our God, The God who encircles me with strength and makes my way blameless?
Psalm 18:30b-32 AMP
In Jesus' Holy name we pray, Amen!
For more information regarding this department, please click here.
If you would like to submit a Pray for the Patch request, please contact us at prayers@how2loveourcops.org or via our Contact form