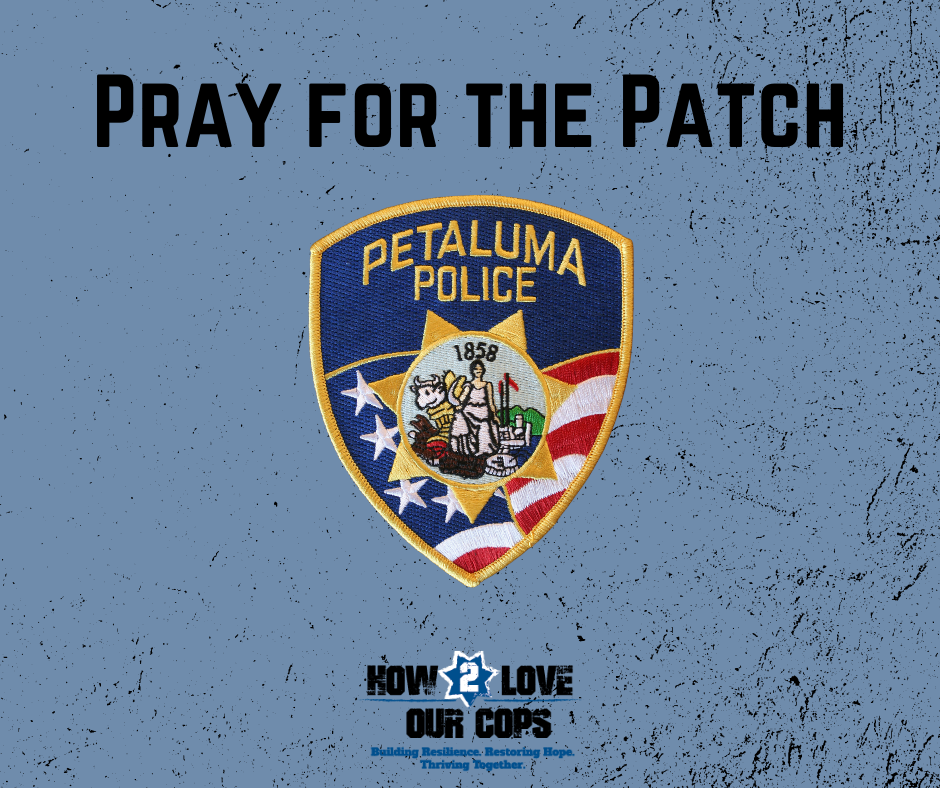 Pray for the Patch- Petaluma PD
Each week the How 2 Love Our Cops prayer team spends some time reviewing the patches that have been sent to us from all over the country. Prayerfully, we choose a patch and share it with you, our incredible followers to come along side us and lift up the men and women who represent the department selected.
This week we highlight Petaluma Police Department in California. Petaluma PD has been busy with their Field Training Program; this month alone several officers completed their individual field training programs and are ready to serve their community solo.  In addition, three police recruits graduated from the Police Academy and will begin their individual training field training programs. After completing an intensive 20 week police academy all new officers enter a one on one field training program where they are individually trained by a senior officer for another 16 weeks until they demonstrate they are prepared to work as a solo patrol officer without assistance.
Join us to pray:
Dear Lord, we thank you for the hearts of these new officers to serve and protect. We pray for wisdom and discernment as each Field Training Officer comes alongside each trainee. We pray for guidance as each new officer and trainee becomes familiar with the community. We pray for protection and understanding as training is put into practice. We pray for peace and understanding for each loved one that is supporting an officer. We pray each officer  and their family would have a community around them to support them and care for them.  We pray for supernatural rest on their days off duty. We pray for care and support from FTO's, support staff, leadership, community and family to help these officers grow and flourish as they begin their careers in the law enforcement profession. It's a shared responsibility to care for our officers. We also pray for qualified and professional candidates to be raised up to serve as Public Safety Dispatchers. May these candidates believe in the shared mission of protecting, serving and making a positive impact in every day. Guard their hearts and minds from the daily tragedies and traumas that come into their communication center. We pray for their emotional, physical and mental health. Lord, we pray for the leadership, officers and support staff of this department to know that their work matters. Their excellence is valued. May the community partner with this Petaluma PD to care for the concerns in this community. Lord, give the community eyes to see and ears to hear, and give them a shared vision for the health of this community.
Hold on to instruction, do not let it go; Guard it well, for it is your life.
Proverbs 4:13

In Jesus' precious name we pray, Amen!
---
For more information about this department please visit their website.
If you would like to submit a Pray for the Patch request, please contact us at prayers@how2loveourcops.org or via our Contact form.