Pray for the Patch- CalFire, EDSO, PCSO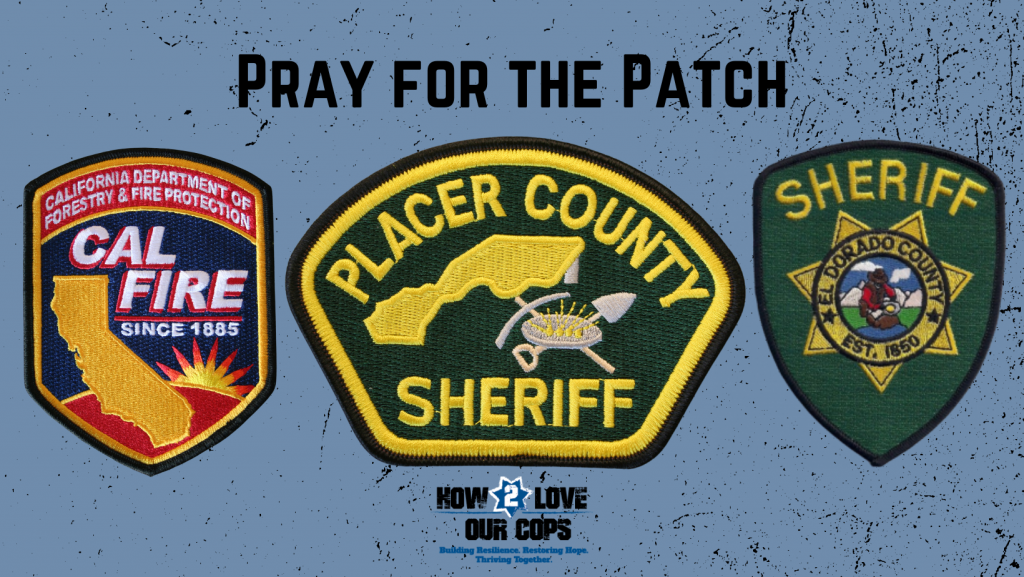 Each week the How 2 Love Our Cops prayer team spends some time reviewing the patches that have been sent to us from all over the country. Prayerfully, we choose a patch and share it with you, our incredible followers to come along side us and lift up the men and women who represent the department selected.
Join us to pray for CalFire, Placer County Sheriff's Officer, El Dorado County Sheriff's Officer, and all of the departments supporting the Mosquito Fire in Northern California.
Dear LORD,
We come before you to intercede for these agencies and all who are responding to the Mosquito Fire. As evacuations take place we pray for the cooperation and safety of the community and their animals. May your peace lead them.
We pray for favor and the swift and safe arrival of units and equipment as they are enroute to support our first responders to suppress the fire. Give them supernatural endurance and instincts in every situation they encounter.
Our hearts are with the families of our first responders as they take on the responsibilities at home. Lord, be their refuge and fortress as they trust in you.
In times of crisis, we begin to see leadership and community work together for the safety of one another. Thank you for your faithfulness to hear your prayers.
Whoever dwells in the shelter of the Most High will rest in the shadow of the Almighty. I will say of the Lord, "He is my refuge and my fortress, my God, in whom I trust."
Surely he will save you from the fowler's snare and from the deadly pestilence. He will cover you with his feathers, and under his wings you will find refuge; his faithfulness will be your shield and rampart.
You will not fear the terror of night, nor the pestilence that stalks in the darkness, nor the plague that destroys at midday.
A thousand may fall at your side, ten thousand at your right hand, but it will not come near you.
Psalm 91:1-7
In Jesus' Name we pray, Amen!
For more information about this department please visit their websites:
Click Here: Placer County Sheriff's Office
Click Here: El Dorado County Sheriff's Office
If you would like to submit a Pray for the Patch request, please contact us at prayers@how2loveourcops.org or Click here:  Contact form.