Pray for the Patch- Maine State Police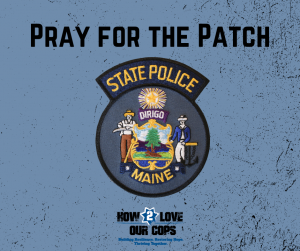 Each week the How 2 Love Our Cops prayer team spends some time reviewing the patches that have been sent to us from all over the country. Prayerfully, we choose a patch and share it with you, our incredible followers to come along side us and lift up the men and women who represent the department selected.
Join us to pray for Maine State Police for our Pray for the Patch Campaign.
Dear LORD,
We come before you to bless Maine State Police with prayer as they faithfully serve their communities. We pray for the well-being and protection of every person who works for this agency. As trauma is inevitable in this profession, we pray for trained professionals to rise up and be available to meet the needs of all law enforcement agencies throughout the state. We pray for robust Peer Support Programs and Training to be available in-house and in communities across Maine. We pray for those who come alongside LEA's to be excellent and have a heart for the well-being of all in need of healing. We pray for healing and peace in minds, in bodies and souls.
As summer comes to an end soon and as this state gets ready for winter, we pray for protection and endurance as they navigate extreme weather conditions. Give them supernatural instincts in every situation they encounter.
We also pray for law enforcement families and the safety of their children across the state. We pray you would send angels concerning them to guard them in all their ways.
Lord, we bring all of this in faith and with confidence that you are at work on behalf of Maine State Police and all law enforcement agencies across the state and throughout this nation. We pray for strength in the mind and reassurance in the soul.
For God did not give us a spirit of timidity or cowardice or fear, but [He has given us a spirit] of power and of love and of sound judgment and personal discipline [abilities that result in a calm, well-balanced mind and self-control]. 2 Timothy 1:7
The LORD is gracious and righteous; our God is full of compassion. The Lord protects the unwary; when I was brought low, he saved me. Return to rest, my soul, for the LORD has been good to you. For you, LORD, have delivered me from death, my eyes from tears, my feet from stumbling, that I may walk before the LORD in the land of the living. Psalm 116:5-9
In Jesus' Name we pray, Amen!
For more information about this department please visit their website.
If you would like to submit a Pray for the Patch request, please contact us at prayers@how2loveourcops.org or via our Contact form.