Pray for the Patch- Oregon State Police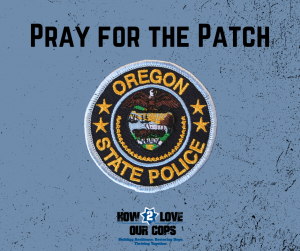 Each week the How 2 Love Our Cops prayer team spends some time reviewing the patches that have been sent to us from all over the country. Prayerfully, we choose a patch and share it with you, our incredible followers to come along side us and lift up the men and women who represent the department selected.
Join us to pray for the Oregon State Police.
Dear LORD,
You are a faithful God, and we come before you to intercede for Oregon State Police and every community within the state. We pray for order and peace within the walls of each city that citizens may live peaceful and quiet lives.
Protect every officer and community from any work of darkness. Guide them as they navigate the upcoming shift in weather conditions from Fall to Winter.
We pray for the health and well-being of all Oregon State Police. May trauma be acknowledged, and resources be abundant for all in need and may all be healed in the process. We pray for marriages to be strengthened and for broken relationships to be restored. May family units be of one heart and one mind in this journey as a police family.
With thankful hearts we pray your blessings for Oregon State Police. May you know we are here for you.
I urge, then, first of all, that petitions, prayers, intercession and thanksgiving be made for all people – for kings and all those in authority, that we may live peaceful and quiet lives in all godliness and holiness.
1 Timothy 2:1-2
In Jesus name we pray
For more information about this department please visit their websites here
If you would like to submit a Pray for the Patch request, please contact us at prayers@how2loveourcops.org or Click here:  Contact form.