Pray for the Patch- Modoc County and Culver City PD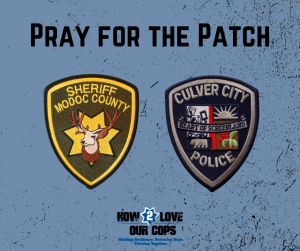 Each week the How 2 Love Our Cops prayer team spends some time reviewing the patches that have been sent to us from all over the country. Prayerfully, we choose a patch and share it with you, our incredible followers to come along side us and lift up the men and women who represent the department selected.
Join us to pray for the Modoc County Sheriff's Office and Culver City Police Department.
Dear LORD,
We thank you for every public servant in these agencies as we recognize the good work that they are doing to keep communities peaceful and safe for the well being of all.
In times of injustice and chaos their presence brings relief to those who are in need of safety and protection. There will be times when their presence will not be welcomed, but may each public servant know that their work is valued, needed and an act of love as they faithfully serve.
We lift up each agency to you and ask that integrity would guide them as they respond to the unknowns of the day. Guard their minds and hearts in those unknowns and give them discernment as they process each situation. Grant them peace and protect their families as they are away. Grant them rest when they return home.
I urge, then, first of all that petitions, prayers, intercession and thanksgiving be made for all people – for kings and all those in authority.
1 Timothy 2:1-4
The integrity of the upright guides them.
Proverbs 11:3a
In Jesus name we pray
Prayer inspired from Behind the Badge by Adam Davis
For more information about these departments please visit their websites
Modoc County Sheriff's Office HERE
Culver City Police Department HERE
If you would like to submit a Pray for the Patch request, please contact us at prayers@how2loveourcops.org or Click here:  Contact form.