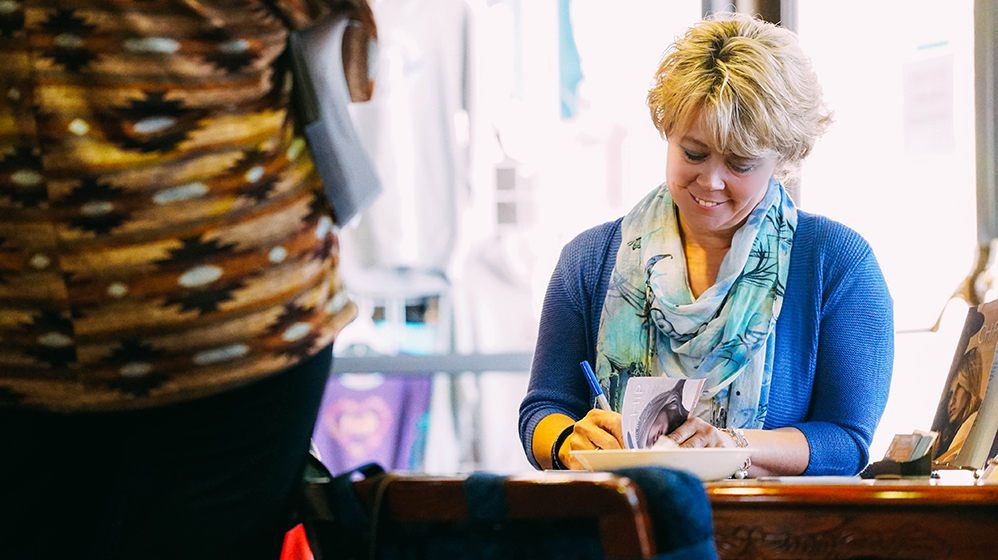 How2LoveYourCop: Growing and Expanding!
I've been feeling pretty nostalgic lately.
Seven years ago this time of year was when CHiP on my Shoulder—How to Love Your Cop with Attitude hit the online bookstores. I had no idea what to expect—would people buy it? And if they buy it, would they even like it? It was a complete unknown.
And then, the letters started coming.
Thank you notes. Spouses declaring that I'd written their story. Cries for help.
Frankly, I didn't know what I was getting into. The stories were awful. The hurt was deep. And I realized there was a whole lot that I didn't know. So I began to learn, and research, and study. When I got a question, I found answers. I went through chaplaincy training. When someone needed more help than I could provide, I made some calls and got her meeting with someone in her area.
Along the way, I realized there was more I wanted to do for police families.
I started taking writing jobs that would help me pay for those ideas. One of those jobs gave me a couple of years of meeting with cops, military, and firemen that had gone to Afghanistan. I learned to listen and hear their hearts. This gave me an up close and personal look at the emotional toll of war. Though difficult, it was an incredible journey of discovery and understanding. The rewards from the writing of Selfish Prayer were to see how it really helped the men and women to talk about their experiences and be a part of change. They were given a voice.
There were critics. But some wise friends taught me to listen for things I could do better without getting caught up in the drama. The number one complaint from my readers was that it takes two in the marriage to really make it work. Why did I have to pick on the spouse and give the officer a free pass? That led to the third book, A Marriage in Progress—Tactical Support for Law Enforcement Relationships. It was written for officers looking at marriage through the culture of policing.
That book took me 18 months to write—and it was a labor of research, surveys, and interviews. I learned a ton!
I was at my first VOWS (Veterans Of the Wars on our Streets) Retreat in Montana when the tides of anti-police rhetoric began. The world went crazy, and our police were in the thick of it. And it kept going. And going. More letters. More cries for help. Even Facebook became a war zone. And by 2016, I was exhausted, discouraged, and ready for a change. Was it time to shut it all down?
I mentioned this to Chief. He was horrified that I would even consider it. But it was a serious question that had to be answered—do I have anything more to offer these families? Do I have the strength? I prayed, and God had the answers in a little book called The Magnolia Story. As you may know, I love HGTV, and my favorite show is Fixer Upper. We gave my daughter this book, and she read it in a day. She told me, "Mom, you've gotta read this book—now."
Didn't have to ask me twice—and it was the boost I needed. It was the encouragement needed and the realization that I needed help. How2LoveYourCop was too big for me alone—it needed to be a "we" operation.
Within three weeks I had two who were on the team. Two more joined shortly thereafter. We chose to go non-profit so that even more could jump on board with us in support. And with this came the VOWS Retreat—a marriage retreat for officers who'd been wounded in the line of duty and their spouses, and a need for more programs/resources for these families. It pretty much doubled overnight.
The girls and I spent the better part of a year writing our Bylaws, putting together a Budget, and filling out the paperwork for federal and state tax-exemption status. All of it came together just a few months ago. Next was money—so we wrote a grant request and got one—a significant matching grant with a deadline.
The team jumped into action, and our H2LYC Inaugural Gala was created. We realized we needed to get the word out—what we do, who we are, and perhaps people would respond.
The results thus far have been nothing short of incredible. We've raised a over a third of our matching grant. We've sold over ¾ of our tickets to date. Support is arriving from all over as we share what How2LoveYourCop has become. Community members are excited and spreading the word. We've also been chosen to be a part of a Northern California law enforcement giving campaign in November.
So, what are we doing?
How2LoveYourCop creates and offers resources and programs for both active duty families and wounded officer families. We've got blogs, social media, books, a retreat, a seminar, and a lot of coaching/mentoring/advocating we do one-on-one with people. It used to be just about cop wives. It is now about entire families (officers, spouses, and kids). This next year we have our first spouse conference in March. We are reigniting the VOWS Retreat in June. And there will be more before 2019 is done.
Where are we headed? More books. Videos. Trainings. Conferences for couples. Practical tools for LE families and departments. Family Camp. Bible studies. After care programs. And that's just off the top of my head.
How2LoveYourCop's purpose is to educate, equip, and encourage law enforcement families to thrive relationally, emotionally, and spiritually. We're right now in talks with others that will significantly impact all three of these areas. Stay tuned as we move forward as time and money allows.
How can you be involved? A number of ways:
• Write to us.
We'd like to hear from you—your thoughts, ideas, and questions. Our email address is info@how2loveyourcop.org.
• Pray for us.
All of us volunteer, and we all have officers and kids. We're in the trenches helping and working with others. We need wisdom and guidance from the Lord to do the best we can for you.
• Partner with us.
Have an idea? Want to volunteer at an event? Want to bring a conference to your area? Contact us on info@how2loveyourcop.org.
• Provide Feedback.
We're always looking to learn and grow. We will make mistakes, so when we do, we want to improve and change. Your constructive feedback will help us to do that. Feel free to tell us what we're doing right as well!
• Donate.
We're keeping our operational costs down, but the more funds we raise, the more we can do.
I hope this answers a lot of the questions that you have, and helps you understand exactly where we're going as an organization. Thank you for your support!