Pray for the Patch – Alexandria PD
Pray for the Patch- Alexandria
Each week the How 2 Love Our Cops prayer team spends some time reviewing the patches that have been sent to us from all over the country. Prayerfully, we choose a patch and share it with you, our incredible followers to come along side us and lift up the men and women who represent the department selected.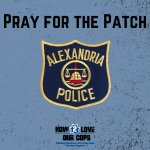 This week we highlight the Alexandria Police Department in the state of Virginia for the Pray for the Patch Campaign. Don Hayes was recently promoted from Acting Chief to Chief. Chief Hayes has served with the Alexandria P.D. for 41 years. One of his main priorities is tackling the staffing shortage, and the department will continue the critical work of recruiting new officers and retaining and supporting those who currently serve. The department has embraced and improved its community policing over the years to gain trust. Hayes would like to see more engagement with the youth, not just from a police department standpoint, but from local organizations as well.
What is community policing?
Community policing promotes police and community partnerships. Community policing recognizes a shared responsibility and connection between the police and the community in making the city a safer place to live.
Join us to pray:
We pray for a shared mission, accountability and unity with the police department, city leadership and its community. Prayers for an attitude of willingness to come forth to serve the needs of the department, community and the youth. Lord, we pray for creativity and boldness when it comes to protecting the youth and encouraging them into healthy ways and mindsets. And we pray for qualified candidates to be raised up for the success, integrity and watchfulness of this police department and its city. May your light shine before others that they may see your good deeds.
We would like to close in prayer for the loved ones who come alongside their LEO's. We pray that you would know you are seen and loved. You are appreciated for all you do. We pray for protection over your household, for peace and order within your walls, and restful sleep.
"As iron sharpens iron, so one person sharpens another".
Proverbs 27:17 NIV
For more information regarding this department and Chief Hayes, please click here.
If you would like to submit a Pray for the Patch request, please contact us at prayers@how2loveourcops.org or via our Contact form